April, 2021: 'The smallest measure' is now on at the Counihan Gallery, presented in conjunction with ClimARTe, until the 23rd of May.
Sound design and composition by Linda Dement, Genevieve Fry & Jessie Boylan
Slag collection and arrangement undertaken in conversation with Adam John Cullen
15:00mins, 3-channel video and 4-channel sound. 
This work was made on the lands and waterways of the Peerapper and Paraloihener people of North-West lutruwita/Tasmania and the Woi Wurrung and Boon Wurrung peoples of the Kulin Nation, in South-Eastern Victoria.
The Smallest Measure is supported by the Australia Council for the Arts (Resilience Fund), Regional Arts Victoria, RMIT University School of Art and La Trobe University through the Care Project (Contemporaryartandfeminism.com/care)
Additional sonobuoy recordings of leopard seals and Antarctic blue whales used in this work were recorded and curated by Brian Miller, Australian Antarctic Division.
Special thanks to Linda Dement, Genevieve Fry, Adam John Cullen, Jacqueline Millner, Philip Samartzis, Linda Williams, Nancy Mauro-Flude, Jenna Tuke, Virginia Barratt, Tom Goldner, Kristian Haggblom and Dianne Baldock, Paul Krummel, Zoe Loh and the Oceans and Atmosphere team at CSIRO, Aspendale and Sam Cleland from the Bureau of Meteorology, Tasmania, for their generous support and facilitation of this work.
March, 2021: 'The smallest measure' is on as part of the Castlemaine State Festival, until the 4th of April, Castlemaine, Victoria. 
Slow emergencies are forms of harm and damage that are not acute but occur gradually and imperceptibly to most of us — like climate change, environmental pollution and radiation. Yet despite remaining largely unseen over time, the effects of slow emergencies are palpable, their relative invisibility rendering the harm they wreak all the more entrenched and difficult to address. How can we recognise and respond to the slow emergencies that are threatening life on earth? In The smallest measure, Jessie Boylan proposes that we stop to deeply honour that element that we rarely see and take almost entirely for granted: air. Boylan's approach to representing air's fundamental importance is to visualise the work that climate scientists do to take care of air, rigorously studying, capturing, measuring, observing, and comparing samples in some of the world's most remote locations. In particular, Boylan has trained their attention on Cape Grim in lutruwita/Tasmania, a historical Aboriginal massacre site and the location of an air pollution monitoring station and science program, jointly managed by the Bureau of Meteorology (BoM) and the Commonwealth Scientific and Industrial Research Organisation (CSIRO), and CSIRO Oceans and Atmosphere lab at Aspendale south of Melbourne. Untouched by land, the wind that arrives at Cape Grim after blowing over the Southern Ocean is one of the cleanest in the world and is considered 'baseline' air: that is, it represents the background atmosphere and thus grants insights into the driving forces behind anthropogenic climate change.
Using a range of bespoke and complex instruments, the dedicated scientists at Cape Grim and Aspendale measure greenhouse gases including carbon dioxide, methane and nitrous oxide; stratospheric ozone depleting chemicals, such as chlorofluorocarbons (CFCs); concentrations of natural and anthropogenic aerosol particulates; reactive gases; radon and solar radiation; wind speed and direction; rainfall, temperature, humidity and air pressure; and solar radiation, including harmful UV-B radiation. As an early iteration in an ongoing research project, the work here surveys the caring ethics the scientists bring to every act of research and how the atmosphere, land, water and science are working together in the formation, collection and analysis of the air and the ways in which global changes in this seemingly invisible matter affects all life-forms
February, 2021: I have been able to travel to north-west Tasmania to begin my research and creative development for my PhD project and new work 'the smallest measure' which looks at the Cape Grim/Kennaook air pollution and monitoring station managed by BoM and CSIRO. I was lucky enough to visit the beautiful landscape of Kennaook in early Jan, and have since done filming at the CISRO Oceans and Atmosphere Lab in Aspendale, Victoria. 

December 10, 2020: On the road with Virginia Barratt for Bonedirt & Rupture development. The below text is from our blog with ANAT (Australian Network for Art and Technology) through which we have an IDEATE research grant to develop our project 'bonedirt'. 
10.12.2020: Finally we are together-well, two of us, we are missing our third collaborator Linda, and that makes us feel a little incomplete!- in Broken Hill, on Barkindji and Wiljakali country. JB travelled over from Central Vic to pick up VB in Adelaide and then we travelled north-east 500kms on the Barrier Highway to get here.
We decided to come here because of the vast human and beyond-human history that is evident in this landscape, in the earth, on the surface and far down below. We knew that by being in this place we would be able to see, and feel, the fundamental tensions between the upheaval of mining processes and the persistence of geologic time.
Just like everywhere else, the ability to be 'together' making this work has been impossible during the pandemic. So now that we are able to travel and be together, we wanted to find a place where thinking about this work and letting it unfold was possible. We wanted to sit, stop and listen to the stories of rocks, just like Leroy Little Bear said, we need to spend time with the rocks before they will tell us their stories.
Ironically, and understandably, there is a lot happening here, on the surface and underground, 24 hours a day- the vibrations of constant activity is palpable and measurable- when we put our geophone in the ground, we didn't have to wait long before movements were recorded.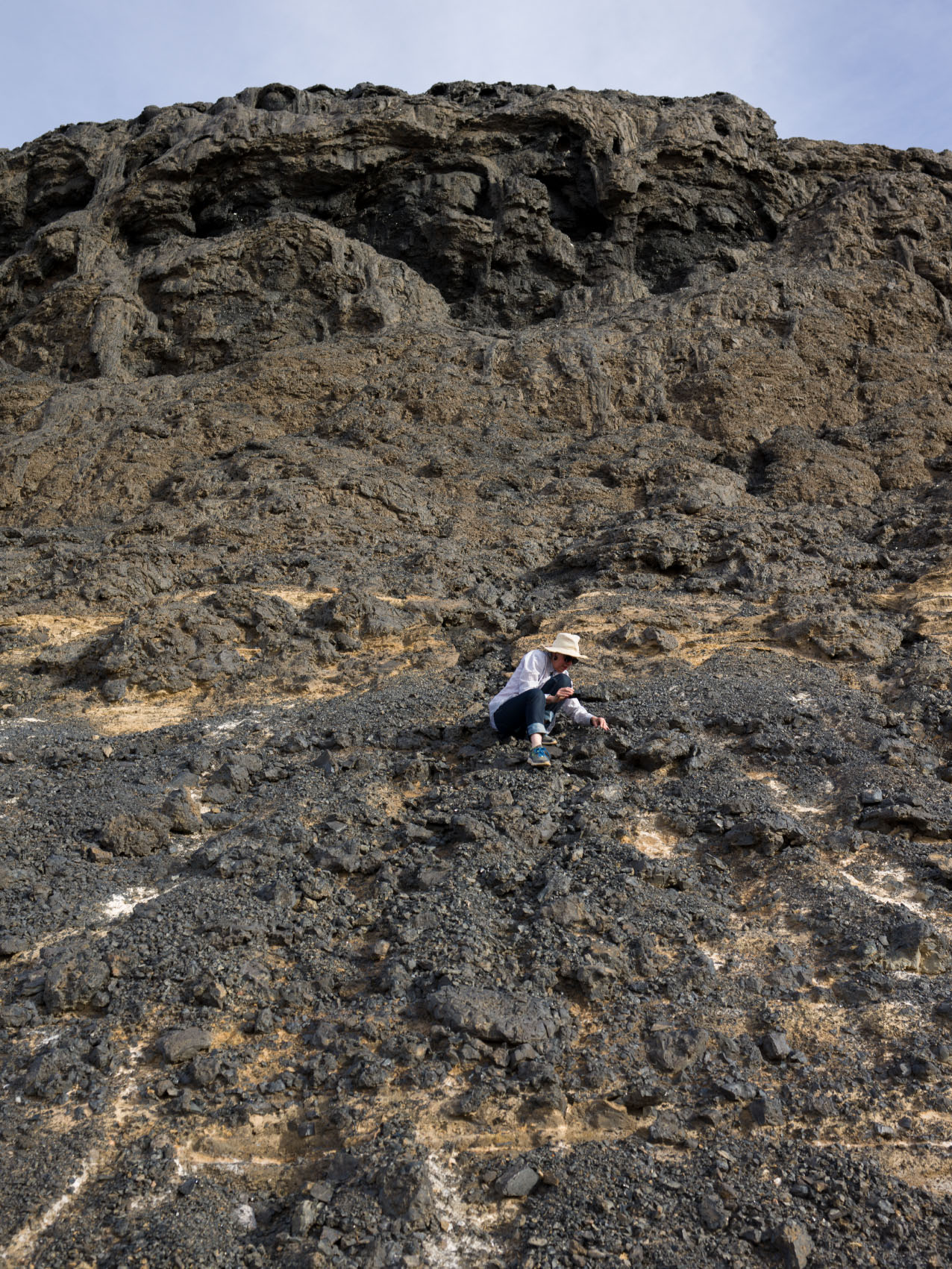 Our first test was after we had been clambering up the side of the slag heap of the Broken Hill 'Line of Lode', recording, photographing, capturing these beautiful black glassy fragmented rocks, Galena, or lead sulphide, that have been wrenched out of the earth for nearly 140 years. We were approaching the rail crossing when the daily freight train was passing, forcing us to wait. We pulled out the geophone and put it in the stones next to the tracks, and, what we discovered upon listening to the recording later, was a beautiful rhythmic heartbeat, a geological heartbeat, vibrating loudly, then disappearing slowly into the distance. The freight train's presence, it's vibrations into the earth, getting quieter as it travelled on its journey.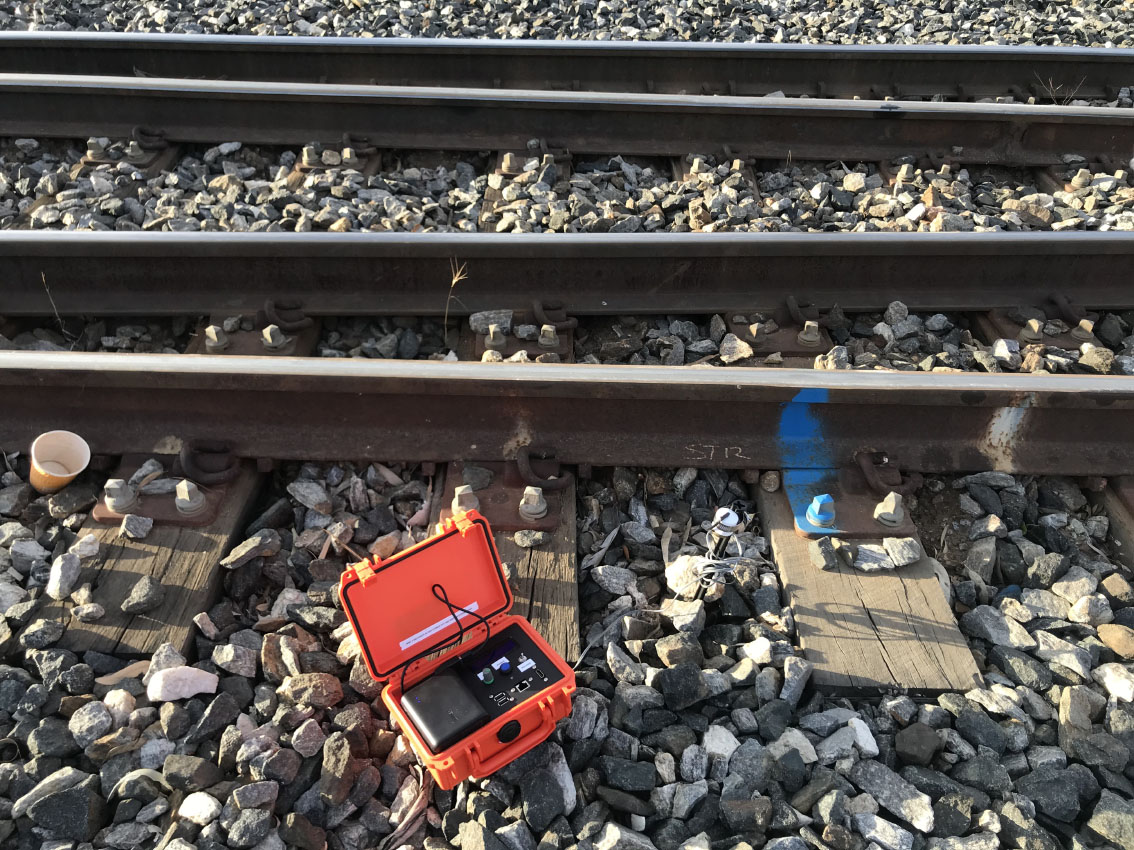 We were excited about our discovery, as this process requires us not to 'know' what we are recording, but to simply trust that something- or maybe nothing- is happening beneath the surface, with the vibration sending signals that we can witness later.
We then decided on a few more locations to do some geophone recordings: the Perilya Southern Mine, not far from the underground portal and next to an ore chute- then up on a hill, waiting for the blast that happens twice daily at 6:45am and 6:45pm.
Listening back to these sounds later, they all contain this constant heartbeat rhythm, growing louder and softer, but staying present. The blast recorded like a muffled machine gun, lasting around 10 seconds. We lay on the ground in anticipation of the blast and we certainly felt it vibrate through our bodies.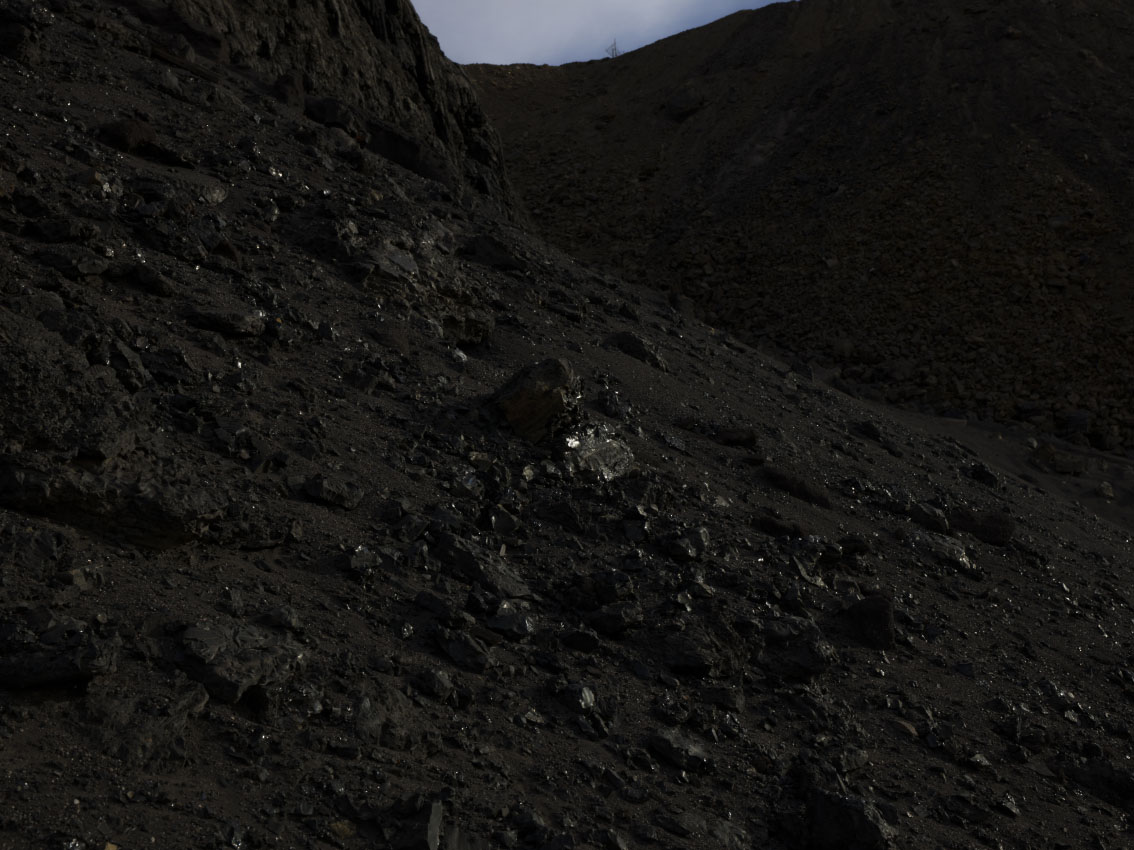 We are now interpreting the sounds, and trying to understand just what we are indeed hearing, as many of the sounds are infrasonic – starting at around 11 Hz, (human hearing range is between 20 Hz and 20 kHz). We are using multi-channel sound and creating soundscapes from what we have collected so far, with the intention that hearing, being with and feeling these sounds might allow us, and others to feel that we are embedded in geological time. That our existence, in terms of human-time, is very short and, in fact, we humans are both chronophobic and chronophilic, we both fear time and think there is endless amounts of it. Marcia Bjornerud, discusses this best in her book 'Timefulness; how thinking like a geologist can help save the world' where she states: "While we humans may never completely stop worrying about time and learn to love it . . . , perhaps we can find a middle ground between chronophobia and chronophilia, and develop a habit of timefulness—a clear-eyed view of our place in Time, both the past that came long before us and the future that will elapse without us."
Chronophobia, Bjornerud states, is "certainly fueled by the demands of the capitalistic world we live in, where short-term profit is the motive force for everything." And this is so evident in the landscapes of Broken Hill. As we explored the Albert Kersten Mining and Minerals Museum, we learnt about just how much ore has been extracted from the earth here… and indeed, how, for some minerals, nothing is left.
This is indeed a rich and complex place to be. It is providing plenty for us to contemplate- and ironically, extract- in order to try and understand our place within a deep timescale, almost beyond comprehension.
Like time, "Sounds…dematerialize the substance of things they resounded and extend their own patterns…they drift off things and link up with one another." – Alphonso Lingis
October 2020: It has been a very intense year, for everyone, everywhere. For us Australians, we had only just begun recovering from the 2019-2020 summer bushfires (black summer) when the global coronavirus pandemic struck- and still it continues to determine our daily lives. I really hope everyone is going okay out there. I haven't been posting many updates this year, as I guess we may all feel simultaneously frozen and in constant motion. Shows have been postponed/cancelled, while others have come to fruition. I will attempt to back date and fill in some gaps of what has been going on for me over the past 10 months. <3
September 01, 2020: I am also delighted that an iteration of my work, The Smallest Measure, will be shown at the Counihan Gallery, in April/May, 2021, as part of the ClimARTe festival. This project is also supported by the Care Project and RMIT University. 
August 31, 2020: I am delighted to be selected as one of the 'WE ARE HERE' artists to present new work as part of the 2021 Castlemaine State Festival. My work will be a selection of my ongoing project, The Smallest Measure, about slow climate emergencies, focusing on atmosphere and air and human and non-human interdependency. 
"The commission [will see] a suite of bold new works by artists living in Mount Alexander Shire, Macedon Ranges, Hepburn Shire, Central Goldfields Shire and the City of Greater Bendigo – or projects created within those borders. The aim is to help turn the current devastating disruption of cultural life into a creative, imaginative force. This exciting initiative has offered us the opportunity to commission four new performing/live art works and three new projection/lens arts works for potential presentation at CSF 2021.
Central Victorian artist recipients are Jessie Boylan, Andrée Cozens & Mark Penzak, Furze Brothers and commonplace productions, Hermione Merry & Helen Mathwin, Brodie Murray, Cameron Robbins and Wide Open Road artist collective. Each project receives a share of the $15,000 grant pool to develop and create their performing, projection or visual arts productions."
August 25, 2020: As part of the Lumina Conversation series, Sarah Rhodes and I had a chat about my work and journey of practice. You can view it via: https://www.luminacollective.com.au/jessieboylansarahrhodes
or via the video below: 
August 30, 2020: As part of the IDEATE project, we have a blog documenting our research and experiments. You can have a look here: http://bonedirt2020.blog.anat.org.au/
August 13, 2020: Very excited that my wonderful collabs and me were selected as one of the IDEATE artists through ANAT. ANAT says: "We had the unenviable task of selecting just six Ideate projects from over 60 art + technology research proposals that actively imagined the future and promised to take us through the looking glass to the other side.
Congratulations to the following ANAT Ideate artists – we cannot wait to see where your research takes you!
Jessie Boylan, Virginia Barratt & Linda Dement will research technologies and strategies for geological deep listening as a way of opening possible relations with our more-than-human familiars.
With direct biological links to their donors, Guy Ben-Ary and Nathan Thompson will research the possibility of bioengineering visual and auditory organoids to operate as 'input' mechanisms for surrogate performers.
Wade Marynowsky will look at possible ways of bringing field robotics and agricultural technologies together to claim new spaces for creative expression.
Andrea Rassell will explore emerging nanobiotechnologies and how artistic practices might inform policies around their development, adoption and dissemination.
Yandell Walton will research the potential of introducing human-like movement to volumetric scans of the natural environment to develop and test cross-species forms and aesthetics.
Drawing from the 90's Tamagochi, Willoh Weiland will research the possibility for art and technology to transform our experience of intimacy through reimagining the role of the digital companion.
We'll keep you in the loop over coming months as each project develops."
July 28, 2020: To kick off the Lumina Conversations series, through the University of Tasmania (UTAS) Honours Forum, in semester 2, 2020, I spoke to the wonderful Julie Gough about her work and ideas. Julie Gough is an artist, writer and curator who lives in Hobart, Tasmania. She was born in Melbourne, Victoria (Australia) in 1965, and has lived mostly in Tasmania since the end of 1993.
Julie's research and art practice involves uncovering and re-presenting  subsumed and often conflicting histories, often referring to her own and her family's experiences as Tasmanian Aboriginal people. Current work in installation, sound and video provides the means to explore ephemerality, absence and recurrence.
You can watch the conversation above or via: https://www.luminacollective.com.au/7554684-lumina-conversations-copy-1#1
July, 2020: I began a PhD! I have been lucky enough to get into the PhD program within the School of Art at RMIT University, under the supervision of Linda Williams, Philip Samartzis and Nancy Mauro-Flude. My project is about how future life is dependent on the care in which current conditions can be understood and responded to. This work, tentatively called 'The Smallest Measure', explores the concept of slow climate emergencies through modes of visualisation, collection and interpretation of air and the ways in which global changes in this seemingly invisible matter affects all life-forms. Changes in air quality and changes in human and non-human health are interdependent. This work explores the ingenuity behind our fascination with a force that connects us all- the air. Through multi-channel video, sound and photography, the work will look at two key sites: the Cape Grim Baseline Air Pollution Station in Tasmania's North-West and CSIRO's research laboratory in Aspendale, Victoria.
Jointly managed by the Bureau of Meteorology (BoM) and the Commonwealth Scientific and Industrial Research Organisation (CSIRO), the monitoring station at Cape Grim measures greenhouse gases such as carbon dioxide, methane and nitrous oxide, stratospheric ozone depleting chemicals, such as chlorofluorocarbons (CFCs), concentrations of natural and anthropogenic aerosol particulates, reactive gases, radon and solar radiation, wind speed and direction, rainfall, temperature, humidity and air pressure and solar radiation, including harmful UV-B radiation. Here, the care with which the micro and macroscopic is studied, analysed and interpreted by people and machines is rendered visible.
July 6, 2020: ABC Central Victoria's cross media reporter, Larissa Romensky, has written and produced a great article and video of Frog and me and the impact of cold-water swimming (in the Res) has on our mental and physical health. You can read it here: Swimming out of the darkness: How cold-water swimming helps with mental health 
December 12, 2019: Did you know that Blade Runner was set in November 2019? Article in Overland by Half Life Collective. 
A room in Naarm is awash with orange and blue light, party tassel curtains hang from the ceiling beams. Four fans push air around the space making the curtains dance and shimmer, agitating the light so that it spreads through the room. Headphones contain the sounds of Pitjantjatjara, Yankunytjatjara and English; stories of pain, loss, strength and resistance. In the corner, a desk invites visitors to play Atomic Mix'n'Match, a twisted game of nuclear universals overlaid on sites affected by the nuclear industrial complex. Seven ceramic balloons lie on the floor, cast in footage from Maralinga and Blade Runner. Did you know that Blade Runner was set in November 2019? This show is an inhalation, calm and terrifying. It opens a space to contemplate a juncture in time, to consider Ridley Scott's speculative future in relation to our current nuclear reality.
Read the rest: https://overland.org.au/2019/12/did-you-know-that-blade-runner-was-set-in-november-2019/
December 2019:  Keith Gallasch has written a review of 'Rupture' for Realtime Magazine. 
"At UNSW's impressive new Esme Timbery Creative Practice Lab, Virginia Barratt extended her text, vocal and physical presence on video in photomedia artist Jessie Boylan's multi-screen installation Rupture (Bendigo Regional Art Gallery, 2018) into live performance as an unnerving shamanistic figure, eyes rolling up, the real body painfully in and out of sync with a quivering, unstable virtual self and in beautiful chorus with voices in flight. Made in collaboration with Boylan, media artist Linda Dement and trauma counsellor and psychotherapist Jenna Tuke, Rupture as performance dramatically evokes panicky transference between the individual and the natural and social world, each enduring serial trauma. Barratt roots her response in a recollection of her child self in horrified awe of the cosmos but feeling inextricably tied to it ("I am a star, the star is me").
A sense of desolation, where not even friendship can console, is relentlessly evoked as smoke drifts through bush, hundreds of scrolling words spell out environmental and other horrors and we are drawn into an endlessly deep, metallic tunnel, while Barratt's virtual body fragments and the real self fades into shadow.
What, in this panicky scenario, is the shaman's message? I recall in particular one gnomic utterance: "Dissolution…is a gift that keeps giving but has to be taken." Presumably, we surrender to our condition or learn from and manage it, as best we can. Revealing the extremity of that condition, a very personal one but shared to varying degrees, Rupture was cathartic for some in its audience, or, for all its hyper-expressiveness, was just too painfully real for others. I left oscillating between these states, unable to answer the question posed by the artists in their program note: "By considering panic as both urgency and agency, can we begin to see ways of engaging with our catastrophic times?" But I keep worrying at it; Rupture has that kind of power."
November 09, 2019: On until November 15th. Bladerunner was set in November 2019 at Kings ARI, Kings Street, Melbourne. 
Ridley Scott's Bladerunner was set in a nuclear dystopia in November 2019.
and here we are.
The earth is powdered with radioactive isotopes, like icing sugar on a cake. A thin yellow line registers in our teeth, our bones and in the geologic strata. Nuclear dystopia is here and it is unequally distributed.
After a recent road trip to visit Anangu lands in and around Maralinga- one of three sites of British nuclear testing in Australia – this group of artists and activists consider the nuclear present and what it means to 'record the future that is already here'*.
*Jasbir Puar, Terrorist Assemblages
About the Artists: This exhibition is by a group of artists and activists living in Australia, Aotearoa and USA: Tessa Rex, Yul Scarf, Jessie Boylan, Andrea Steves, Crunch Kefford, Gem Romuld, Alex Moulis. Their individual work confronting the nuclear industry spans audio, photography, video, installation, community radio, Nobel fucking Peace Prize-winning nuclear disarmarment advocacy, and working with nuclear-affected communities from New Mexico to Yalata. In August 2019 they travelled together to Maralinga, one of the three nuclear testing sites in Australia.
The room palette is a messy split of orange and blue, an homage to the palettes of the 1986 film (blue) and Bladerunner: 2049 (orange), and is a meditation on imagined space and reality. Metallic party tassels twinkle in projections like Trinitite (fused atomic glass). The tassels agitate and distribute light throughout the room like radioactive fallout. They disrupt the projections, echoing the genetic information passed down through generations of survivors. Four fans mark cardinal wind directions.
Seven ceramic balloons hold space on the floor, emblematic of the seven atomic bomb tests carried out at Maralinga. An office desk holds a game: mix 'n' match bureaucratic quotes to places affected by the nuclear industrial complex.
Audio is made by utilising code created from wind data (recorded by BoM between 1955-1967 at Maralinga in South Australia) as well as testimony from atomic survivor communities in Yalata, South Australia and New Mexico, USA, voices and atmospheric sounds change in intensity, volume and pitch- depending on the speed and direction of the wind- forming layers of connected and dispersed stories, linking lives affected by nuclear events together in a never-ending, constantly shifting soundscape.
BoM wind data, code, voices of Russell Bryant, Rita Bryant, Sharon Bryant, Yami Lester, Mima Smart, Avon Hudson and Tina Cordova. Recordings were made on Kokatha, Anangu and Maralinga Tjarutja lands. The languages of Pitjantjatjara, Yankunytjatjara and English are heard. Recordings from the New Mexico Downwinders, the first victims of atomic testing at Trinity, were made on Mescalero Apache, Teypana Pueblo, and Ancestral Puebloan land.
September 23rd, 2019: Rupture will be performed/installed as part of the Big Anxiety Festival in Sydney for one night only, 31 OCT 2019 7:00 PM — 9:00 PM- VENUE: Studio One, UNSW Kensington. 
Rupture and its iterative manifestations was born of an interdisciplinary and collaborative process bringing together photo, video and sound artist Jessie Boylan, researcher, writer and performer Virginia Barratt, digital media artist Linda Dement and trauma-informed psychotherapist Jenna Tuke.
The work explores – through the politics of vulnerability – how panic and anxiety, often underpinned by personal and collective grief, pain, anger, loss, trauma, has a "palpable extension in the world" . The work asks us how to stay with the trouble of our catastrophic times.
In our current age of anxiety, we are constantly called to attention by present, imminent and hypothetical environmental and psychological 'ruptures'. Anxiety as a warning system becomes faulty through this constant triggering, hypersensitizing a population – not just at a bodily level, but also at a social and global ecological level – to messages of danger and catastrophe. Quakes reverberate across fleshbodies and geobodies, send ripples through everything at a quantum level. The body in/of the world floods, buckles, trembles, spews, generates toxic pools, fractures.
When anxiety exceeds its own capacity as a productive force, it becomes difficult to stay with the trouble. All systems are telling you to flee. Rupture asks us:
"do we stop in our tracks, 'overwhelmed' turn our faces from a sun that is swallowing us whole, walk blindfolded and alone towards the crumbling ochre cliffs? Or can we find accomplices to walk with us, to make some sense of the catastrophic present, and then use this awareness to resist paralysis, to cast off despair"
In staying with the trouble can we work together with the dead and dying, can we hold the pain of the earth/body but reconfigure the traumas beneath the surface to move us on from stasis.
We are currently raising money to cover the expenses of this event. Please donate if you can!
September 12th, 2019: I wrote an essay for Morganna Magee's photobook 'Teenage Wildlife'. Get a copy of it here: https://www.morgannamagee.com/teenage-wildlife 
"In her publication The Civil Contract of Photography (2008), Ariella Azoulay discusses the ways in which photographers automatically enter into a form of a contract with someone they have photographed, at the instant of photographing them:
Photographs are constructed like statements; the photographic image gains its meaning through mutual (mis)recognition, and this meaning (even if not the object itself) cannot be possessed by its addresser and/or addressee. Citizenship likewise is gained through recognition, and like photography is not something that can be simply possessed.[1]
Importantly, Azoulay says that this contract is:
An attempt to anchor spectatorship in civic duty toward the photographed persons who haven't stopped being 'there', toward dispossessed citizens who, in turn, enable the rethinking of the concept and practice of citizenship.[2]
This series is Morganna Magee's contract with the teenagers she has photographed; for Magee long ago decided that these lives have not simply stopped being 'there' and that they deserve a process of honouring through a journey of collaboration and mutual recognition, which allows her subjects to take control of how photographs of them are made and subsequently how they are seen in, and through, images. These are visual documents, but they are made through an empathetic lens and relationship, rather than a simple act of witnessing.
This mutual recognition is a multi-relational methodological act between: photographer and subject, subject and photographer, subject and camera, subject and self, viewer and subject, and so on."
August 13th, 2019: My essay 'Grievability and Nuclear Memory' has been published in the latest American Quarterly journal- special edition on Defiant Memory Work– edited by Erica Meiners and Therese Quinn.
Without grievability, there is no life, or, rather, there is something living that is other than life. Instead, "there is a life that will never have been lived," sustained by no regard, no testimony, and ungrieved when lost. The apprehension of grievability precedes and makes possible the apprehension of precarious life. —Judith Butler, Frames of War: When Is Life Grievable? (2009)
Since 1945, nuclear weapons have been tested on all continents except for South America and Antarctica. Although "it is the nature of bombing to be indiscriminate,"1 Aboriginal, Indigenous, and First Nations people
have been the disproportionate victims of these weapons. They also continue to face nuclear waste dumps, uranium mines, and other nuclear projects on their land. This radioactive colonialism ensures that violence persists and is etched into the knowledge of people, place, and country, and that the single "event" of a nuclear detonation is far from over.
Official records provide ample evidence to document how state policies, practices, and attitudes marked Aboriginal people as not fully human. For example, the Maralinga nuclear test site in Australia was "chosen on the false assumption that the area was not used by its traditional Aboriginal owners."2 People living downwind ("downwinders") of the Nevada Test Site in Utah during the US atomic weapons testing program,3 including First Nations communities, were considered "a low-use segment of the population."4 These racist assumptions and statements, one tiny example from the archive of the nuclear landscape, constructed the people (and the lands they inhabited) as disposable. Fast-forward to today's uranium mining and toxic waste dumping, which also unfold on stolen lands: radioactive colonialism continues because colonialism persists.
August 05, 2019: I'm Posting over at @luminacollective this week from some diaristic/work in progress from a recent trip to Kedumba (Katoomba) in the Blue Mountains, NSW.

I'm learning a bit more about memory at the moment, trying to understand it a little better as memories from my childhood have formed new meaning for me in the last couple of years while navigating some difficult times. I have begun to understand more about particular feelings or emotions that are related to the past, or how deeply etched my systems are as a result of my childhood attachment and experiences. So I decided to go back to Kedumba/Katoomba, Gundungurra and Darug country, to see if my memories of these places were enhanced or changed in any way by being there. I also wanted to see these places that I have since learnt more about and incorporate this new knowledge, namely of colonial violence, into my being there in the present as well as the past.
Places hold memory and you may remember more if you go back to those places. They can be context specific. "The brain works with memory on two conflicting principles. Part of the brain's work is to try to categorise and assimilate as many of our experiences as possible in order to save space, while the hippocampus fights to retain unique memories." (Diving for Seahorses, 2018).
My parents moved to the Blue Mountains when I was two and my brother four, following a dream to leave the big city of Sydney and rear their children surrounded by tall trees and fresh air. My mum still worked in the city, and she would leave home on Monday morning and return on Thursday night- though this only lasted for around nine months, as she couldn't bear being away from us for so long. She then commuted the four-hour return train trip each day so she could see us at the end of the day, even if we were asleep. Mum was the bread-winner and dad stayed at home to look after us.
We lived the dream my parents wished for; riding billycarts on the old Catalina Racetrack, sliding down the hill behind our house on carboard boxes with our neighbours and burying ourselves in mud pools made in the veggie patch. My dad also had a habit of rigging up play equipment in any spot available, so we had a flying fox in our backyard and a swing in our dining room, providing hours of fun. Exhilarating and slightly unmonitored, me and my brother lived knowing the world of the outdoors.
It didn't last long, though, after more than a year of this new tree-change lifestyle, my dad left my mum for another woman, which of course, changed everything. We left for Canberra in mid 1990 and I had only been back to the Blue Mountains once until now. 
"The mutability of place is evident and the nature of interactions is nuanced. The photographer is a knowing presence in the work and we are drawn in to witness the strange effects of passing time on place." (Judy Annear, Photography and Place)
Catalina racetrack was at the bottom of our street, we used to go there to ride our bikes and billycarts that dad made. It was only recently that I discovered that this place was formally known as 'The Gully' and was used by the local Gundungurra and Darug peoples as a summer camp until 1957 when they were forcibly removed to build the racetrack. This was devastating for all the families who had called The Gully home for so long. Memories turn themselves around and reinvent themselves constantly with new knowledge of the past.
"Where once we saw possibility, now we see loss, regret, confusion; and if not these, then these images exhort us to be more humble about our claims to place and history." (Adam Geczy, Photography and Place (review))
To be continued..
August 01, 2019: The image of 'Ngurini (searching for home)' -our installation made for the Nuclear Futures project with Yalata Anangu Community members about the forced relocation of Anangu due to the Maralinga atomic testing program in South Australia- on the cover of Rosi Braidotti's new book 'Posthuman Knowledge'.
April 3rd, 2019: A beautiful mural by @hayden_dewar_artist celebrating the work of Dimity Hawkins and Dave Sweeney, who were co-founders of the Nobel Peace Prize Winning International Campaign to Abolish Nuclear Weapons @ican_australia is finished and will be launched on the 16th of April. The mural commemorates the life of Yami Lester, atomic test survivor, and brings his story from Yankunytjatjara land at Walatinna, South Australia, to the lands of the Kulin Nation and the walls of the Preston Library. This image is based on my portrait of Yami that I took way back in 2006 when I first met him. 
February 3rd, 2019: Rupture is featured in 'The landscape of trauma' by Andrew Stephens for The Age. https://www.smh.com.au/entertainment/the-landscape-of-trauma-20181220-h19bvu.html  
"[…] Environmental catastrophe is increasingly forming the core of many Australian artists' practice. Jessie Boylan and Martin King are among many whose recent works inhabit this interesting field where encountering catastrophe through an artwork does much more than steep us in reliving trauma.
Boylan's Rupture, for example, is a six-screen video installation that deals with environmental disasters such as bushfire, flood, drought and storm, featuring performance artist Virginia Barratt, who uses her own body as a "site" for researching panic. Boylan says Rupture explores the ways the body and the world mimic each other in responding to personal traumas and global catastrophe.
"Anyone from any background or knowledge can be affected by art," Boylan says. "It can always bring something up. Art allows people to have their own experience and find some meaning, whatever that is for them."" 
December 15th, 2018: Lumina Collective have a new show opening this week at the Ballarat Art Gallery, Echoes. 
Every photograph is a certificate of presence – (Barthes, 1981: 87)
Since its invention, photography has been a tool used to document and formulate notions of identity, nations and time. In the 19th century in Australia, photographs were made in an attempt to understand people, place-making and nation-building within the new colonial frontier. In the period since the 1900s, and more recently, as a result of the digital revolution, we are more used to making, taking and digesting photographs than ever before. Through perceptions of presence and absence, Lumina Collective's new exhibition, Echoes, explores the ways in which photographic image making in Australia is inherently linked to questions of identity and to generational stories that span many oceans.  
In her article Photography and Place, Judy Annear suggests that "…in this photography of place and residue, [there is] an implicit acknowledgement of the role of the photographer as a mediator and a story teller, and the story is not at all straightforward. It is not picture-postcard perfect." Lumina, which comprises of eight leading female Australian photographers, seeks to engage viewers with these ideas, through modes of documentary methodologies that extend beyond linear visual storytelling processes. By embracing and forging long-form deeply embedded personal practices, Echoes investigates ideas of identity through explorations of family history, home and self, migration and environmental upheaval, within the scope of social and cultural Australian identities.
December 7th, 2018: Andrew Stephen's has reviewed 'Rupture' for ARTLINK. https://www.artlink.com.au/articles/4729/jessie-boylan-rupture/ 
"In Sarah Hall's novel The Carhullan Army (2007), Sister tells of her transformation into a warrior. She and other women fight the Authority, a repressive regime ascending out of a near-future England besieged by catastrophic sea-level rises. Collective trauma experienced in "the collapse" begets insurgency. Sister notes her own shaved head, muscular body and tautness as "the anatomy of a fanatic".
Emotional trauma as a catalyst for adaptation and resilience is an enduring topos of post-apocalypse centred literature. The Road (Cormac McCarthy, 2006), Things We Didn't See Coming (Steven Amsterdam, 2010) and After the Apocalypse (Maureen McHugh, 2011) are a few examples, each dealing with versions of environmental catastrophe. Championing this phenomenon,  in Colson Whitehead's Zone One (2011) the narrator Mark Spitz tells us of PASD (Post-Apocalypse Stress Disorder), describing the vast galaxy of survivor dysfunction around him, with "its sundry tics, fugues and existential fevers".
Jessie Boylan's moving-image installation Rupture has a subtle literary-narrative texture, with a protagonist and a poetic accompaniment of intense, disruptive images. Spending time immersed in Rupture is to encounter something like Whitehead's "tics, fugues and existential fevers", but the work doesn't get mired in that boggy zone of despair. While Boylan's powerful imagery, in a tight dance with an unsettling audio track, draws attention to the fragility of connections between the human body and the natural environment that nurtures it, it also quietly suggests the strength and potential of that relationship without being didactic."
October 24th, 2018: Some of my series 'This is not nowhere' has been published in the Spring (print and online) edition of LOTL magazine, these images look at the intersections between queer life and anti-nuclear activism in Australia. This is part of a year long Lumina Collective photo-editing residency with the magazine.
http://www.lotl.com/Advice/This-Is-Not-Nowhere-2403/

October 19, 2018: I am delighted to have been selected as a finalist for this year's Josephine Ulrick and Win Schubert photography award with my Cyanotype, The Umbra (Joni), 2018, at Home of the Arts (HOTA), Gold Coast, alongside fellow Lumina Members Aletheia Casey and Morganna Magee, as well as a really wonderful bunch of artists whom I admire and respect such as Abdul Abdullah, Hoda Afshar, Tony Albert, David C Collins & Kieran Smythe-Jackson, Ben Ali Ong, Jessie Boylan, Aletheia Casey, Celeste Cebra, Grayson Cooke, Dean Cross, Amala Groom & Dale Collier, Lucas Davidson, Gerwyn Davies, Tamara Dean, Shoufay Derz, Merilyn Fairskye, John Feely, Jacqueline Felstead, Philip George, Richard Glover, Mike Gray, Alannah Gunter, Paul Handley, Lee Harrop, Sophia Hewson, Ingvar Kenne, Honey Long & Prue Stent, Anne MacDonald, Morganna Magee, Koji Makino, Hayley Millar Baker, Michael Miller, Harry Nankin, Will Nolan, Emma Phillips, Izabela Pluta, Chris Round, Julie Shiels, Jacqui Stockdale, Nathan Stolz, Cyrus Tang, Janet Tavener, Ioulia Terezis, David Wadelton, Kai Wasikowski and Christopher Young.. Congratulations to Tamara Dean for her winning work!
The exhibition is on until the 25th of November.
October 07th, 2018: 
Panel Discussion : Art in the age of anxiety, Artlands, Bendigo Art Gallery, La Trobe Art Institute
Friday 12 October, 5.30pm – 8pm
By considering panic as both urgency and agency, can we begin to see ways of engaging with our catastrophic times? In our current age of anxiety, global politics, environmental devastation, insecurity and instability pervade our daily lives; we are constantly faced with present and imminent environmental and psychological rupture. This panel will discuss multi-disciplinary approaches to panic and crisis in our contemporary world and how symptoms of 'disorder' can be seen as an appropriate response to personal traumas and global catastrophe.
Panelists: Jessie Boylan, Bendigo Art Gallery's 2018 Going Solo Artist, Virginia Barratt, Writer and Performer, Doctoral Candidate, University of Western Sydney, Jenna Tuke, Trauma-informed Psychotherapist, Jill Bennett, Professor of Experimental Arts and founding Director of National Institute for Experimental Arts, UNSW, MC: Associate Professor Jacqueline Milner, La Trobe University.
Presented as part of ARTLANDS Victoria 2018 with La Trobe University.
September 22nd, 2018: Bendigo Advertiser "La Trobe University Bendigo's Jessie Boylan explores trauma through art with 'Rupture'"
By Emily D'Agostino
Photos by Glenn Daniels
"A NEW exhibition at the Bendigo Art Gallery is challenging people's perceptions of trauma. Rupture uses video and sound to illustrate some of the stressors in today's world – from fires and floods to the relentless pace of modern life – alongside a performer's depiction of the body's response to trauma. Artist Jessie Boylan was exploring how symptoms of 'disorder' could be seen as appropriate responses to trauma in a person's personal life and their environment, rather than maladaptive responses to the world around them, when the installation was created. "We're constantly seeing more and more things that are stressful," the La Trobe University Bendigo photography lecturer said. "Our bodies are not separate from the world… We are not separate from the world.""
Read the rest: https://www.bendigoadvertiser.com.au/story/5660297/new-bendigo-art-gallery-exhibition-exploring-trauma-through-art/
August 31st, 2018: My exhibition 'Rupture', which was made in collaboration with Linda Dement, Virginia Barratt and Jenna Tuke, will open at the Bendigo Art Gallery on September 22nd and run til February, 2018.  Rupture investigates the ways in which the body and the world mimic each other in modes of panic and crisis. In this immersive video and sound installation, Central Victorian based artist Jessie Boylan collaborates with trauma-informed psychotherapist Jenna Tuke, digital media artist Linda Dement and writer and performer Virginia Barratt to interpret how symptoms of 'disorder' can be seen as an appropriate response to personal traumas and global catastrophe.
August 30th, 2018: I am presenting on the topic of Art and Atomic Amnesia as part of the one day symposium South Australia's Nuclear Past, Present and Future'. At the Allan Scott Auditorium, UniSA, City West Campus, Adelaide on Saturday the 8th of September from 10am – 4pm. This one-day symposium will shed light on South Australia's nuclear history and related environmental and social effects: ranging from the British atomic tests at Maralinga in the 1950s and 1960s, to the effects of uranium mining and recent proposals to store nuclear waste in South Australia near Hawker and Kimba. The symposium will explore how artists have reflected on nuclear issues through their practice and give voice to communities affected. Nuclear campaigners and community members will present an update on current developments in regard to the proposed waste dumps in SA and illustrate the current campaigns against these. https://www.eventbrite.com.au/e/south-australias-nuclear-past-present-and-future-tickets-48944656786
August 23rd, 2018: Black Mist Burnt Country is now on exhibition at the National Museum of Australia in Canberra and was reviewed in the Sydndey Morning Herald. 
"Mittman says it's important for Australians, particularly generations who may not have even heard of the testing, let alone those of us to whom Maralinga is a familiar word but were unaware of such details as then prime minister Robert Menzies did not even consult cabinet when he gave permission to begin the testing.  "And it's not just a story of the past," he says. "There is great concern among the indigenous community, and I don't want to speak on their behalf, about the ongoing repercussions of the testing on country. "And it's even more than that, the multi-media work from Linda Dement and Jessie Boylan builds a bridge between the past and the present. "There are 15,000 warheads in the world at present, many of them on planes, in submarines, ready to strike within minutes. "The Cold War might have ended but the nuclear threat has not gone away."
August 1st, 2018: Myself and fellow Lumina member Lyndal Irons had a chat about my work and ethics and practice for Photodust, an online photography platform. You can read it here> http://photodust.org/post/176503692134/lumina-conversations
July 20th, 2018: My reivew of Nic Mclellan's book 'Grappling with the Bomb: Britain's Pacific H-bomb Tests' has been published online in the Journal of Pacific History.
Grappling with the Bomb Britain s Pacific H bomb Tests – review PDF
July 10th, 2018: Lumina are represented in the Family of No Man curatorial project in @rencontresarles
The Family of No Man is one of the main curatorial events at Arles Cosmos 2018, featuring work by 400+ female and inter-gender artists working in the medium of photography. The aim of this radical curatorial proposition is to revisit Edward Steichen's original Family of Man exhibition (1955), which, in its time, was described "as one of the most ambitious undertakings in an art museum". The Family of No Man will seek to replace the visual register of white male dominance inherent in the original project with an inclusive visual platform of how the world is seen today through non-male eyes
July 8th, 2018: I am are currently working on 'Rupture' with Linda Dement and Virginia Barratt during an Artist in Residence at Bundanon, NSW. What a wonderful thing.

June 24th, 2018:
I recently reviewed the photobook 'Hiroshima Graph : Rabbits abandon their children' by Yoshikatsu Fujii as part of the Tsuka Project, curated by Kristian Haggblom and exhibited at the Centre for Contemporary Photography in Melbourne.
Just as the images start to make sense, as history begins to be known, more pieces of the puzzle start to appear. We find ourselves navigating maps and craning to understand the machinations of this event. Drawings, diagrams, gas masks and documents give the viewer a sense of decoding, of unscrambling something that shouldn't make sense. I hold my breath, and then release. What about the rabbits?
March 29th, 2018: 'Shift', 2016, with Linda Dement is part of the La Trobe Visual Arts Bendigo Staff Show 'On The Ground' here at the Phyllis Palmer Gallery, Bendigo, Victoria.

Jan 22nd, 2018: As part of the 'The Bomb', an experimental film by writer Eric Schlosser and director Smriti Keshari that explores the strange, compelling, and unsettling reality of nuclear weapons, featuring music by electronica / rock band THE ACID, I have been asked to create or showcase work made on the topic of nuclear warfare. After screenings at Tribeca, the Berlin Festival, and Glastonbury, the bomb is making it's debut at Sydney Fest on Jan 23 & 24. – As of 2017 there are an estimated 14,550 nuclear weapons in the world, of which nearly 1,800 are on high-alert status; this fact presents an unseen but oppressively present threat of obliteration and contamination, information too large to live with and impacts too huge, microscopic or diffuse to pin down. This image was created as part of a multi-channel video work which distills from the complicated actualities of our nuclear age, a resonant, immediate manifestation that combines testimony, data and mythology. Image: Indiscriminate' – Digital image from 'Shift', 2016, Linda Dement & Jessie Boylan #makeartnotbombs
VICE: What Would A Nuclear Future Look Like?
Ahead of the local premier of art film 'the bomb', Australian and New Zealand artists explore their own relationship to and understanding of nuclear threat.



January 5th, 2018: I am very excited to be included in the exhibition 'In Your Dreams' at UNSW Galleries, Paddington, NSW, from Jan 6th – April 7th, 2018 with my work from the Marshall Islands. In Your Dreams is Curated by Felicity Fenner and Cherie McNair and presented in partnership with the UNSW Galleries in association with Sydney Festival, UNSW Centre for Ideas and the Grand Challenge on Inequality.
"The divide between rich and poor is widening, conflict and climate change are forcing people from their homelands, displacement and homelessness are on the rise. Despite social and technological advances, for many people in the world access to a good quality of life is proving more and more difficult. In this exhibition, 14 international artists explore the impact of inequality on individuals and communities from diverse corners of the globe." https://artdesign.unsw.edu.au/unsw-galleries/your-dreams
Participating artists:
Jessie Boylan, Alejandro Cartagena, Samuel Gratacap, Tanya Habjouqa, Taloi Havini, Samsul Alam Helal, Maria Kourkouta, Johnny Miller, George Osodi, Raphaella Rosella, Andres Serrano, Sim Chi Yin, Zhao Liang and Mary Zournazi
November 12, 2017: I am very pleased that my image 'Aurum' has won highly commended at the Burrinja Climate Change Biennale 2017. The exhibition is on from 
11 November 2017 to 11 February 2018.
"Global in nature, national in scope and local in action, the Burrinja Climate Change Biennale provides a platform for events addressing one of the most pressing topics of our time."
See more here: https://www.burrinja.org.au/projects/burrinja-climate-change-biennale
July 21st, 2017: 'Farewell Tjamu Yami Lester, the man who spoke strong for Anangu'
"Yankunytjatjara Elder and activist, Kumanara Lester (the word used for people who have passed away) fought hard for Aboriginal rights until his peaceful passing in Alice Springs, aged 75.
Anyone who goes through the historic photos of the western desert mob standing up for their land rights in the 70s and 80s will soon recognise the ubiquitous face of Yami Lester, or 'Tjamu' (Grandfather) Lester.
Yami Lester OAM was born in the early 1940s at Walkinytjanu Creek, an outstation on Granite Downs Station in the far north of South Australia. He lived a life of fruitful activism and achievement, despite the hardships he endured.
Tjamu Lester was blinded when he was about ten years old, as a result of the 'black mist' that descended on the Anangu Pitjantjatjara Yankunytjatjara Lands (APY Lands) after the British nuclear tests at Maralinga, South Australia, in the 1950s. He worked as a stockman before losing his sight. But his disability didn't deter his drive to stand up against the powers that attempted to erode the desert mob's entitlements over their land…"
http://www.sbs.com.au/nitv/nitv-news/article/2017/07/24/farewell-tjamu-yami-lester-man-who-spoke-strong-anangu
July 3rd, 2017: Disarmament in the Balance, BY JOSH JENNINGS, Kill Your Darlings
"As military powers around the world escalate their rhetoric, the threat posed by nuclear weapons proliferation is more urgent than ever. With Australia boycotting major UN disarmament negotiations at the US's behest, others are stepping up the fight to rid the world of nuclear weapons."
https://www.killyourdarlings.com.au/article/disarmament-in-the-balance/
June 18, 2017: 'Voices from the Frontline – 10 years on from the NT Intervention'
On June 21st 2007, the Racial Discrimination Act was suspended to allow the Northern Territory Response Act 2007.
An activist, a community leader and a Hip hop artist have shared detailed stories of how this controversial move still impacts them and communities all around the nation.
http://www.sbs.com.au/nitv/article/2017/06/19/voices-frontline-10-years-nt-intervention
June 2017: Lumina have been featured in various national and international newspapers and magazines as a result of the public launch on June 15, 2017, with the coinciding exhibition which opened on June 8th at Black Eye Gallery in Darlinghurst, Sydney.
Photojournalism Now:
http://photojournalismnow.blogspot.com.au/2017/06/photojournalism-now-friday-round-up-9th.html?m=1
Italy's 24 Il Magazine, 24 Ore
http://24ilmagazine.ilsole24ore.com/2017/06/le-illuminate/
Vogue Italia:
http://www.vogue.it/fotografia/news/2017/06/07/lumina-collettivo-fotografico-australiano-fondato-da-otto-artiste/
Internazionale:
https://www.internazionale.it/foto/2017/06/07/lumina-collective-australia
Australian Photographer
http://www.australianphotography.com/news/new-exhibition-set-to-showcase-the-best-of-australian-documentary-photography
The Sydney Morning Herald
http://www.smh.com.au/nsw/new-photo-collective-promises-fresh-look-at-australia-20170604-gwjycm.html
June 3rd, 2017: Spears to semi-automatics: The human cost of conflict in Papua New Guinea Highlands, the International Committee of the Red Cross.
The work I did with the ICRC in October 2016 has been published across a number of news outlets as well via an in-depth multimedia website through the ICRC.
'The old ways are gone: Papua New Guinea's tribal wars become more destructive'
'Spears to semi-automatics': Papua New Guinea's tribal conflicts become more violent. ABC Pacific Beat
May 24th, 2017: I am very excited to be a part of Lumina, a new Australian collective of award-winning photographic artists breaking ground in visual storytelling and dissemination.
Committed to revealing diverse stories and narratives within the Australian landscape and further afield, Lumina's core aim is to build capacity through collaboration and community. Each artist brings to the collective a unique voice and vision.
Founding members are: Donna Bailey, Chloe Bartram, Jessie Boylan, Aletheia Casey, Anna Maria Antoinette D'Addario, Lyndal Irons, Morganna Magee and Sarah Rhodes.
See More at: http://www.luminacollective.com.au
May 19th, 2017: "Jessie Boylan is going it solo" Bendigo Advertiser
"In 2018, Bendigo Art Gallery will hold the fifth exhibition in its annual Going Solo exhibition series.
Launched in 2014, Going Solo reinforces the gallery's commitment to fostering and promoting the careers of contemporary Australian artists living and working regionally, showcasing the best of local contemporary art alongside significant national and international exhibitions.
Bendigo Art Gallery is pleased to announce Jessie Boylan as the 2018 Going Solo artist.
Over the next year, Jessie will work closely with gallery curators to produce an ambitious new body of work to be presented in a solo exhibition at the gallery.
Through her thought-provoking work, she explores issues relating to human impacts on the land and communities in relation to environmental and social devastation – like nuclear testing, mining, and war. Her work is underpinned by extensive research, which has taken her to many remote and contested landscapes. It has also provided her with opportunities to engage directly with communities affected by both the immediate and long-term legacy of such adversity…" Keep reading…
May 11th, 2017: I am very excited to have been selected for the Bendigo Art Gallery's Going Solo Project for 2018. I will be working closely with gallery curators to produce an ambitious new body of work to be presented in a solo exhibition at Bendigo Art Gallery in 2018.
http://www.bendigoartgallery.com.au/Prizes_Scholarships/Going_Solo
May 4th, 2017:  ABC iView Art Makers  have used some of my footage from Maralinga in "Atomic Glass Art".
Artist Yhonnie Scarce says her glass sculptures represent Aboriginal bodies. Her work for The National, Death Zephyr, evokes the impacts of the British atomic weapons testing at Maralinga, South Australia, in the 1950s-60s.
http://iview.abc.net.au/programs/art-makers/AC1646H003S00

April 26th, 2017: UQ Art Museum Panel: 'Presenting Maralinga: How are artists addressing our nuclear history?'
This panel discussion features visual artists Jessie Boylan and Judy Watson, Director of the UQ Anthropology Museum Dr Diana Young and visual artist and filmmaker Torika Bolatagici will take Mumu Mike Williams' protest paintings as a starting point for a discussion about why visual artists, play-writers, filmmakers and choreographers keep returning to this history and its lasting impact on Aboriginal people and the land.
Recorded 26 April 2017, Sir Llew Edwards lecture theatre, The University of Queensland.
April 14th, 2017: "Art initiative highlights Australia's conflicted stance on nuclear weapons"
DAVID HOPKINS, Nikkei Asian Review
A touring exhibition reminds Australians that the nuclear issue is as vital today as in the 1950s
MELBOURNE — Australia's decision to skip recent negotiations on a global nuclear weapons ban appears at odds with domestic public opinion at a time when an art exhibition highlighting the country's dark past as a nuclear testing ground is touring nationally.
In late March, representatives from more than 115 countries gathered at the United Nations headquarters in New York to negotiate a legally binding nuclear weapons ban that advocates say is the most promising step toward nuclear disarmament since the nuclear Non-Proliferation Treaty was adopted almost five decades ago. Presiding over the negotiations, Ambassador Elayne Whyte Gomez of Costa Rica said on March 30 that the adoption of a treaty during the second round of talks scheduled to begin in June was "an achievable goal."
Feb 27th, 2017: I am currently part of an online conversation on Cultural Resistance: The Power of Music and Visual Art as Protest from February 27-March 1, 2017 through New Tactics for Human Rights. In this conversation, we seek to discuss the tactics and strategies used by artists for effective and influential protests against current human rights issues. Come join in on the discussion.
Aurum, 2017 – Layered photomedia: Kalgoorlie Super Pit, Western Australia (2010) & North Mara Gold Mine, Tanzania (2009) Photographic light box100 x 150 cm
23rd Feb, 2017
Coming up: Alternative Destinations – 2017 Castlemaine State Festival
Associated works presented for <the space in between> artist group. Artists include Warwick Baker, Jessie Boylan, Gabrielle Brauer, Domenico de Clario, Tara Gilbee, Zoe Hambleton, Penelope Hunt, Lyndal Jones, Fiona Kennaugh, Tobias Richardson,  Jacques Soddell, Robyn Walton, Hayley West.
This project focuses on the energy of enquiry and the spaces of creative practice that broaden beyond the studio. Bringing together an array of innovative works for exploration and discovery.
An accompanying map and catalogue can be acquired from the Margot Wine Bar or Newstead Railway to assist you on a journey through the alternative destinations of this collective of works.
Various Locations:
Main Hub – Newstead Railway Arts Hub
Newstead Railway Station
Dundas Street , Newstead, Vic 3462
Open 10-4pm everyday 17th – 26th March 2017.
Program launch Wednesday 9th March 2017 6-8pm.
Margot Wine Bar 14 Hargraves St, Castlemaine VIC 3450
13th October, 2016:
"…Although this exhibition sets Indigenous artists alongside non-Indigenous artists, it is the generational differences that are the starkest. In one of the pieces commissioned for the exhibition, Jessie Boylan and Linda Dement have developed an installation, Shift (2016), captures the moods and mystery of a black and white landscape across three screens. It is ghostlike and ethereal, as fragile as it is beautiful. In contrast, underneath, is a rotation of weapons, pointed at the viewer, a reminder of what could come from the sky from the arsenal of warheads.
Although most of the work sits under the bleak shadow of a nuclear cloud, Tjariya Stanley's Puyu – Black Mist (2015) sits in bright colours that show tracks over the green and brown land. The colours are joyous, hopeful. There are ceremonies and song-lines that connect people. It is forward looking and reminds us to never underestimate the resilience of the world's oldest living culture.
As we feel seismic shifts in the world, the looms large once again. In 2015, the Science and Security Board moved the Doomsday Clock forward to three minutes to midnight noting that "the probability of global catastrophe is very high" and that "the actions needed to reduce the risks of disaster must be taken very soon". In this environment, Black Mist, Burnt Country reminds us that the greatest threat to humankind and our planet are ourselves."
Read the full article: https://www.artlink.com.au/articles/4541/black-mist-burnt-country/

12th October, 2016: Guardian Australia Black Mist Burnt Country review – "exhibition covers devastation of nuclear war; With works by Sidney Nolan, Arthur Boyd and Jessie Boylan, Black Mist Burnt Country homes in on the 1956 British atomic tests in the Great Victoria Desert."
"In the new exhibition Black Mist Burnt Country, one photograph by Jessie Boylan sticks out. Yankunytjatjara man Yami Lester stands on the deep red earth next to a single skinny tree. His brown jacket reflects the muted landscape. His hands are clasped on his chest as if in pain, and his eyes, tilted to the sky, are scrunched shut. Yami Lester, you see, is blind.
Lester was just a child when the British tested the atomic bomb near his home in the Australian outback, in what came to be known as Maralinga. "It was coming from the south – black, like smoke," he later recalled. "I was thinking it might be a dust storm, but it was quiet, just moving through the trees."
Elders thought it was an evil spirit and tried to use woomera (spear-throwers) to disperse it. But the damage was done. Lester's family soon fell sick. He lost his sight. The trees, too, shrank, shrivelled and died.
The national touring exhibition, which runs until 2019, commemorates the 60th anniversary of the Maralinga atomic tests through painting, sculpture, printmaking and installations. Spanning 70 years, from Hiroshima to today, it covers artistic reactions to nuclear warfare from more than 30 artists, Indigenous and non-Indigenous.
Black Mist Burnt Country may be broad in scope but it concentrates heavily on the infamous 1956 Maralinga tests in South Australia's Great Victoria Desert. Maralinga is an Aboriginal word for thunder: the cathartic clearing of a stormy sky. In this case, however, the word has taken on a far darker meaning. Indigenous people were forcibly removed from their lands or, if they stayed, suffered horrific injuries. Service and military personal working on the sites, too, were exposed to hazardous radiation."
Continue reading: https://www.theguardian.com/artanddesign/2016/oct/12/black-like-smoke-exhibition-covers-devastation-of-nuclear-war-in-outback-and-beyond

30th September, 2016
The 27th of September 2016 marked the 60th anniversary of nuclear testing at Maralinga, South Australia and I am proud to have work in two exhibitions marking highlighting the legacy of the nuclear testing in Australia.
At the SH Ervin Gallery in Sydney (Until Oct 30th): Black Mist Burnt Country: Testing the Bomb. Maralinga and Australian Art is a national touring exhibition of artworks by over 30 Indigenous and non-Indigenous artists commemorating the British atomic test series in Australia. Sixty years after the events this exhibition revisits the history of the test program at places such as Maralinga, Emu and Montebello Island, through works across the mediums of painting, printmaking, sculpture, photography, music and new media spanning seven decades.
The collaborative multi-channel video work with Linda Dement, as well as two portraits of mine (one of Avon Hudson and one of Yami Lester) are part of this exhibition.
Here is a review by ArtsHub and a write up by the ABC.
At Tandanya in Adelaide (Until November 12) 'Nuclear' Involves more than 50 creative artists – photographers, filmmakers, digital artists, painters, sculptors and writers, we have produced a multi-arts showcase, which presents the stories of atomic survivors – those indigenous communities, service personnel and civilian workers who have been directly affected by atomic testing. It presents our discoveries about the nuclear age, and fits within a long tradition of artists and communities responding to 'the bomb'.
A centrepiece is 'Ngurini' (Searching), an immersive digital projection made with members of the Yalata Anangu community. Another is '10 Minutes to Midnight' also for immersive screening in our large cylindrical arena, and developed with nuclear veterans and the Balaklava community.
These digital art works are accompanied by exhibitions of photography – 'Portrait of a whistleblower' and a collection of images from campaigns against a nuclear waste repository; paintings – 'Life Lifted into the Sky'; sculpture – 'Fat Man' and 'Tree of Life: Gift of Peace'; and pottery – a collection titled 'Ebay makes the bomb'. We are also pleased to include international stories and experiences of hibakusha (the Japanese term for 'atomic survivor'), which remain integral to Australia's Cold War atomic test history. The showcase will also feature seminars, film screenings, and storyteller sessions.
The works sit at the creative junction between history, eye-witness testimony and artistic interpretation, and together constitute a creative response to the slow public reveal and long-term legacies arising from the nuclear bomb tests.
We all live with irreversible radiation impacts – affecting our environment, and our bodies. Plutonium half-lives are up to 24,000 years. Our stories bear witness to the legacies of the atomic age, and remain relevant and illuminating within the contemporary international debate about ongoing testing and development of nuclear weapons; and within current debates about Australia's nuclear industry and waste repositories.
August 20, 2016:  "Gift of Peace": a sculpture for Nagasaki Peace Park
In 2016, the Aboriginal community of Yalata in South Australia gifted a sculpture to the Nagasaki Peace Park. Mayors for Peace, Fremantle City and Alphaville arts production company were the Australian partners, with the Nagasaki Atomic Survivor Council and Nagasaki City Council. The film shows the production of the sculpture and the process of community participation from which it emerged; as well as the visit to Nagasaki by a delegation of artists and community leaders, for the unveiling the sculpture.
"Gift of Peace": a sculpture for Nagasaki Peace Park from Paul Brown on Vimeo.
July 11-24-2016:
"Given the temptation of despair, our need can be simply stated: We must confront the image that haunts us, making use of whatever models we can locate. Only then can we achieve those changes in consciousness that must accompany (if not precede) changes in public policy on behalf of a human future. We must look into the abyss in order to be able to see beyond it." – Robert J. Lifton, "Examining the Real: Beyond the Nuclear `End'" (1986)

Linda Dement and Jessie Boylan have successfully completed their artist-in-residence at Burrinja Cultural Centre in Upwey, Victoria. This residency was made possible through Museums and Galleries NSW Artist or Curator Residency Grant, as well as the Australia Council for the Arts New Work Grant.
Linda and Jessie continued development on their work 'Shift' for Burrinja's national touring exhibition 'Black Mist Burnt Country' which commemorates the 60th anniversary of British atomic tests at Maralinga, showing works by over 30 artists of the past six decades to a wide audience, in regional and city centers until 2018, the tour begins from SH Ervin Gallery in Sydney this September.
On 26/1/2016 The Bulletin of Atomic Scientists left the Doomsday Clock at 3 minutes to midnight, symbolising humanity on the brink of apocalypse because of continued nuclear threat and climate change. Shift is a multi-screen artwork which deals with the seeming impossibility of curtailing or halting the build-up of nuclear weapons. It engages with facts too large to live with and impacts too huge, microscopic or diffuse to pin down.
The work creates space to allow the imagination to enter the impossibility, to encounter the unseen and ever present reality and to consider our current precarious status and human position within it.
During their time in residence Linda and Jessie were able to experiment with visual and audio material for inclusion in the work, as well as test out the multi-channel work on three screens provided by Burrinja. At the end of the two weeks they presented their work-in-progress to the public who were able to gain an insight into both the technical and conceptual development of the work, as well as provide feedback to the artists.
The two weeks Jessie and Linda spent at Burrinja (on top of the two weeks at Bundanon) helped solidify a draft body of work for the exhibition in September as well as solidify the next stage in the process of development and presentation, without this residency we would not have gotten this far with the work. Artists in Residence provide valuable space and time to focus solely on a single body/piece of work, and allows for a series of experimentations, failures and successes, all of which are integral to the making of the work.
11-25th May 2016: I am collaborating on a new project about nuclear weaponry with artist Linda Dement that will be exhibited as part of the National Touring Exhibition 'Black Mist Burnt Country', and we are currently artists in residence at the Bundanon Trust AIR program in Illaroo, Shoalhaven, NSW. With the news that our project has just been granted Australia Council funding through the Arts Projects for Individuals and Groups program, as well as an ACR grant through MGNSW  our project development is well on its way!
14-23 April 2016: As part of the Nuclear Futures arts program, as documenter & documentary maker, I travelled to Nagasaki and Hiroshima, Japan with a delegation of Anangu from Yalata Community who have been involved in the making of a sculpture representing Australian atomic victims and survivors, that is now installed in the Nagasaki Peace Park. To read more about the project go here. 
To read an ABC news article on the project go here.
01 March 2016: Sarah Harris from the Bendigo Magazine interviewed me about my work, as well as Black Mist Burnt Country and the Nuclear Futures program for the Autumn edition of the mag. You can read it here: Nuclear Imaging_Bendigo Mag_Autumn 2016-42
"Sixty years after the black mist rained on Maralinga burning people and country, Australia's nuclear history is being made visible through art."
Writer: Sarah Harris – Photographer: David Field
"Jessie Boylan may just be proof of the adage that activists and artists are born rather than made, entering the world under not so much a star sign as a mushroom cloud of Cold War hostilities.
The global nuclear arsenal reached its peak of 65,056 weapons in her birth year when she was delivered of a pregnancy literally book-ended by the sinking of the Rainbow Warrior and the Chernobyl nuclear meltdown.
Now aged 30, the multi award-winning photomedia artist finds herself at the forefront of documenting the Australian anti-nuclear movement with its inextricable threads to war, mining, social and environmental justice as the Doomsday clock, once again, shows three minutes to midnight.
The Castlemaine-based mum-of-two is one of more than 36 (indigenous and non-indigenous) artists and two locals (the other, Montalto Sculpture Prize-winning master founder Craig MacDonald) whose works will feature in a major two-year national touring exhibition to commemorate the 60th anniversary of the atomic test series at Maralinga in South Australia, starting in September.
Black Mist Burnt Country spans seven nuclear decades from the apocalyptic bombing of Hiroshima, the post-war testing in the central desert, through the protests against Pacific testing in the '80s to the present day…"
20 January, 2016: I am very excited and honoured to be a part of a national touring exhibition that commemorates the 60th anniversary of nuclear testing at Maralinga in South Australia. The exhibition 'Black Mist Burnt Country' will begin it's tour in September, 2016 from the SH Ervin Gallery in Sydney, and travel for 2 years across the country. The works in the exhibition collectively span a period of six decades, from the post-WW II period to the present day. Artwork by the following artists are included: Albert Tucker, Reginald Rowed, Arthur Boyd AC OBE, Sidney Nolan OM AC, John Perceval AO, Weaver Hawkins, Jonathan Kumintjarra Brown, Yvonne Edwards, Maureen 'Mima' Smart AOM, Kunmanara Queama, Hilda Moodoo,Terrance Edwards, Lance Atkinson, Ian Howard, Paul Ogier, Trevor Nickolls, Pam Debenham, Judy Watson, Rosemary Laing, Craig McDonald, Adam Hill aka Blak Douglas, Warren 'Ebay' Paul, Kate Shaw, Karen Standke, Jessie Boylan, Linda Dement, Hugh Ramage, Adam Norton, Kim Bowman, Mick Broderick, Belinda Mason, Luke Cornish, Toni Robertson and Kate Downhill.
This exhibition has been developed by Burrinja Arts Centre in Upwey, Victoria, with support from NETS and Visions of Australia. The galleries that have been confirmed for the tour are: Flinders University Art Museum, Burrinja Gallery, National Trust SH Erwin Gallery, Ballarat Art Gallery, Swan Hill Regional Gallery, Pinnacles Gallery, Glasshouse Gallery, Western Plains Cultural Centre, Penrith Regional Gallery, Geraldton Regional Gallery, Maitland Regional Gallery, Gold Coast City Gallery, and Penrith Regional Gallery.
7 December, 2015: Linda Dement and I have been successful in gaining an Artist or Curator Residency (ACR) Program Grant through Museums and Galleries NSW. This exciting opportunity will allow us to undertake a two-week residency in July 2016 at Burrinja Gallery in the Yarra Valley. We will develop a new responsive installation work titled 15,695, referencing the number of nuclear weapons now held globally, for an upcoming major touring exhibition Black Mist Burnt Country.
November 2, 2015: Upcoming show at TCB Art Inc. Melbourne. Exhibition: 11 November – November 28, 2015
Painter Tim Price and photographer Jessie Boylan come together for Daily life of actions – in this investigation into environmental activist communities in Australia. Price's paintings of activism and the daily life of actions -or actions of daily life- are like a fantasy world; everything is highly charged because and the situations are so colourful and exciting, creating banal yet extraordinary scenes. This work, intertwined with Jessie Boylan's photographs of camp sites and places of protest portray another side to activism that isn't presented in the media; this and the outback is presented through the vivid colours of Price's figurative paintings and the details of Boylan's hyper-real large format photographs.
Using painting and photography, Price and Boylan's work references each other, creating a painting based on a photograph, and making a photograph that could be a painting, the mediums and decisions of the artists are interrogated throughout Daily life of actions. Price and Boylan present two ways of looking at the same subject through different mediums, both personal yet distant, birds eye and close-up, taking a step back to soak it all in, as well as looking at our own place within a movement.
October 31st, 2015: I was interviewed about my work by local (Castlemaine) radio-maker Ben Harding, have a listen if you're interested! https://soundcloud.com/doodoopodcast/jessie-boylan – "This week on DooDoo, photographer and activist Jessie Boylan. Jessie has been photographing the anti-nuclear movement in Australia for many years. She's an activist but not a propagandist – her work is subtle and nuanced. She also has strong ties to indigenous communities in northern Australia, has photographed in Palestine, and has a passion for the post-gold rush landscapes of Central Victoria."
October 2nd, 2015: Some of my work will be show in an exhibition by The Atomic Photographers Guild at the Old Bank of Japan, Hiroshima Branch, October 6-16, 2015.
From Trinity to Hiroshima and Beyond: the Nuclear Age Through the Eyes of the Atomic Photographers Guild
On July 16, 1945, the first test of the atomic bomb (Trinity Test) was conducted in Alamogordo, New Mexico. Twenty-one days after that on August 6th, an atomic bomb was dropped on Hiroshima. Seventy years has passed since then.
From October 6-16, the Atomic Photographers Guild will have an exhibition in the Hiroshima Bank Building, a robust building in the hypo-center that survived the a-bomb. The Bank is now an Arts Center with minimal funding.
We will exhibit 50 selected photos of a variety of subjects ranging from nuclear facilities to Hibakusha. All the photos are selected by the APG, an organisation of photographers from America, Canada, Germany, Australia and Japan.
We also show another 40 works called Nuclear Enchantment by Patrick Nagatani, a Japanaese American and member of the Guild. Patrick has his origins in Hiroshima. His brother Scott, a musician from Los Angeles, will come to wish for peace by playing an atomic-bombed piano.
Another project is to make a new "Trinity Site Monument @ Hiroshima 2015" – visitors to the exhibition will be asked to take part in erecting the monument. Also, there will be a slide show projected on a screen made of recycled paper cranes. We want to send a message of peace from Hiroshima, city of International Peace Culture.
October 6 – 15
10am-5pm
Old Bank of Japan, Hiroshima Branch
trinity.hiroshima2015@gmail.com
September 10, 2015:  Ella Rubelli, from the Sydney Morning Herald Photography Blog has interviewed me for the series The New Storytellers which is looking to showcase the rich new crop of young documentary photographers working from Australia.
"For photographer Jessie Boylan, 29, the camera is a political tool. Her issue-driven photography focuses on the anti-nuclear movement, mining, war and social and environmental justice. These themes in her work have lead her across the globe to document displaced Bedouins in the Negev desert in Israel, agricultural and water issues in remote Mozambique, mining in Papua New Guinea, climate change in the Marshall Islands and anti-nuclear protest in Australia."
Read the interview here: http://www.theage.com.au/national/clique/the-new-storytellers-jessie-boylan-20150910-gjjkzq.html
31st August, 2015: Very excited to be selected as a finalist in the Incinerator Art Award for Social Change with this image 'King Tide Coming': – The work will be on display from October 9th – November 29th at the Incinerator Gallery: 180 Holmes Road, Moonee Ponds, Victoria, Australia.
'King Tide Coming' is a visual reference to the ongoing threat to Marshall Islanders due to climate change and rising sea levels. This photograph, taken from Eneko Island, was made just before a major storm and tidal flooding that hit the Marshall Islands in March, 2014. The flood caused widespread damage to the series of low-lying atolls and a State of Emergency was declared. Homes and food gardens were destroyed, as everyone lives just three meters above, and only a few hundred meters away, from the sea.
Climate change is the second major infliction that Marshallese people have had to respond to. Between 1946 and 1958 the US tested sixty-seven atmospheric nuclear weapons on Bikini and Enewetak atolls which sent a cloud of radioactive fallout across the northern atolls. The local Marshallese, were evacuated to other atolls and have been unable to return home since. Many inhabitants have suffered ongoing illnesses as a result of radioactive fallout and many remember a white powder falling from the sky, which they thought was soap or shampoo, rubbing it into their hair and bodies.
As sea levels rise further, the Marshallese will, again, have to flee their homelands.
05 August 2015: "Art from Hiroshima, Maralinga explores legacy of the atomic age"
ABC Radio National – Books and Arts Daily – interview with Creative Producer of Nuclear Futures about our show at QUT "The Block" – http://www.abc.net.au/radionational/programs/booksandarts/art-from-hiroshima-maralinga-explores-legacies-of-atomic-age/6667552

"In the 70 years since the bombing of Hiroshima and the beginning of an era of nuclear testing, art has helped survivor communities deal with and communicate the legacy of the atomic age. Books and Arts speaks to the creative director of an artistic showcase called 10 Minutes to Midnight."
"…Along with Kawano's work, the showcase includes installations reflecting on the legacies of the British-run atomic experiments at Emu Field and Maralinga in South Australia and the Monte Bello Islands off the coast of Western Australia during the 1950s and 1960s.
One element is a series of photographs taken by Victorian artist Jessie Boylan of a man named Avon Hudson, a veteran of the Maralinga tests.
'Avon was amongst those who worked on what we call the minor trials. These took place at the end of the 10 years of British testing at Maralinga. He experienced all kinds of things there that disturbed him and he became a campaigner for veterans' rights,' Brown says.
'Jessie has spent a lot of time with Avon, come to know him very well, and has produced some magnificent photographs of him, but at the same time of various artefacts that are part of his life, and of documents and other memorabilia that are representative of the campaigns that he's been working on.
'It's quite moving to see how this man who's been a fantastic local community member also has a parallel story of campaigning as a result of his experience out at Maralinga.'
July 30th, 2015: "Photomedia installation shines light on Australia's nuclear past"
http://www.smh.com.au/national/clique/photomedia-installation-shines-light-on-australias-nuclear-past-20150730-gio5fo.html#ixzz3jPFeaI4Z
"This August marks 70 years since the atomic bombing of Hiroshima and Nagasaki.
The two bombings, which killed at least 129,000 people, remain the only use of nuclear weapons for warfare in history.
To commemorate and recognise Australia's own nuclear history, a team of artists has brought Australia's chilling atomic story to life in an exhibition called 10 Minutes to Midnight.
In the 1950s and 1960s, the British ran atomic experiments at Emu Field and Maralinga in South Australia, and Monte Bello in Western Australia, with grave ramifications for local communities.
Combining contemporary photomedia installations with rare artefacts and footage, the works are the culmination of community-based arts projects between artists and atomic survivor communities.
Inspiration has been drawn from relationships with Pitjantjatjara Anangu communities affected by nuclear tests in remote South Australia; nuclear veteran and whistleblower Avon Hudson, a leading public campaigner for nuclear veterans' rights; Japanese hibakusha (atomic survivors); and other international atomic survivor communities."

04 July, 2015: Looking forward to Nuclear Futures upcoming exhibitions/installations at The Block, QUT in Brisbane. We are working hard on a new projection 'Ngurini' which is a collaboration with members of the Yalata community in South Australia, exploring the forced relocation of Anangu people during the British atomic testing program in South Australia in the 1950s. This is part of the 10 Minutes to Midnight installation, and the exhibition that I co-curated with NF and Avon Hudson 'Portrait of a Whistleblower' will also be on during this three-week residency. http://www.ciprecinct.qut.edu.au
01 July, 2015: My paper 'Atomic Amnesia: Photographs and Nuclear Memory' has been published in the Journal of Global Change, Peace and Security. Link here: http://www.tandfonline.com/eprint/bYFNIHSx7FwkRImzaYrU/full – This paper addresses the ways in which photography can illuminate that which is unfathomable, such as nuclear catastrophe. It discusses how chronicling the nuclear era through art can allow us to break free of our atomic amnesia and urge us to imagine possible alternative futures free of nuclear disaster. It examines the ways in which members of the Atomic Photographers Guild have sharply focused on all aspects of the nuclear age and its fallout. Link here: http://jessieboylan.com/wp-content/uploads/2013/03/Atomic_Amnesia_JGCPS_2015_June.pdf
06th March, 2015: Very excited that my portrait of Avon Hudson, Maralinga Whisteblower, has won the Adelaide Law School Images of Justice Photography Competition in the professional category. The winners were announced on Wednesday the 4th of March in Adelaide.
28th Feb, 2015: Article: 'Paladin's Curse: Kayelekera and the Extended Mining Saga in Malawi', for the Mining Monitor:
"In the rolling hills 575 kilometres north of Malawi's capital city Lilongwe, lies Paladin's Kayelekera uranium mine, the first major mining development in Malawi that began operations in 2008, it was to be the standard on which future mines would be based.
"The mine is located in the catchment area of a river that flows directly into Lake Malawi," said Reinford Mwangonde from Citizens for Justice Malawi (CFJ) in a Greenleft article in 2006, "one of the most pristine freshwater bodies remaining in the world and a vital source of food for the Malawian people."" Read the rest of the article.
25th Feb, 2015: We have just been in Balaklava, South Australia for the curation, creation and installation of 'Portrait of a Whistleblower' which chronicles the life of RAAF ex-serviceman turned Maralinga Whistleblower Avon Hudson, as well as the 'Ten Minutes to Midnight' digital media installation as part of the Adelaide Fringe Festival via Nuclear Futures. It was a very successful series of events with a program of public screenings, talks and viewings. Very importantly, several relatives of nuclear veterans as well as civilians who were affected by the British nuclear testing program at Maraling and Monte Bello attended the event/s and spoke powerfully about their experiences.
06th Jan, 2015: Pleased that my work from 'Fourteen Ounces' – photographs from the Central Victorian Goldfields – is featured in NZ's PhotoForum issue 15 'History of Other Places' – You can see it here.
13th December 2014: Our exhibition and multimedia installation Ten Minutes to Midnight & Portrait of a Whistleblower with Nuclear Futures will be part of the Adelaide Fringe Festival in 2015. A multi-arts celebration across Balaklava revealing compelling stories of Australia's atomic testing and the RAAF servicemen who blew the whistle. Incorporates immersive mixed media installation, a photography and archival exhibition and speakers program. Artists include Teresa Crea, Linda Dement, John Romeril, Nic Mollison, Luke Harrald, and Jessie Boylan.
12th December 2014: My photographic light boxes  'Fourteen Ounces' will be displayed in Union Lane as part of the White Night Festival in Melbourne, 21st February 2015. The event runs from 7pm to 7am, and visitors will be able to experience the visual art, exhibitions, spectacular illuminations, music, theatre, special dining experiences, film, design and performances on display in venues and major cultural institutions right across the city centre.
December 10th, 2014: Since the beginning of the year I have been working with Nuclear Futures, an Australia Council for the Arts funded project exploring legacies of the nuclear age through creative arts. We are working on a number of community partnership projects in Yalata and Balaklava in South Australia, specifically with nuclear testing at Maralinga affected communities and veterans. We are creating new digital media artwork, as well as running community arts workshops as part of this.  You can see what we're up to via: www.nuclearfutures.org
September 10th, 2014: My photographic light boxes of gold diggings made up of 1850s photos as well as photographs of my own from 2014, are on display as part of a Mt. Alexander Shire Council commissioned public art project called Intercept. They are installed on the East side of the Castlemaine Market Building, Mostyn St, Castlemaine, Victoria, until October 19th.
August 20th, 2014: My photographs of Nuclear Veteran Avon Hudson, and nuclear bomb survivor Yami Lester are published in journalist Frank Walker's new book Maralinga, The Chilling Expose of Our Secret Nuclear Shame and Betrayal of Our Troops and Country, published by Hachette Australia.
—
15 July, 2014: Excited to have been selected for a public art commission in Castlemaine by the Mount Alexander Shire Council. My work will be new work that continues the series Fourteen Ounces. I will be creating photographic light boxes containing images which manipulate archival images with contemporary images of the region. The images will depict the transformation and regeneration of bushland to goldfields to bushlands. The site for the work will be the IGA side of the Market Building on Mostyn Street, Castlemaine, Victoria.
—
06 June, 2014: Very pleased to have some of my Operation Buffalo photographs featured in the Right Now Poetic Justice Anthology. Poetic Justice is a collection of essays, fiction, poetry and visual art about human rights issues in Australia—issues that haven't gone away, or gone elsewhere. From asylum seekers to Indigenous land rights; from the surveillance state to police racism, this anthology chronicles contemporary Australian debates about social justice. You can get a copy here.
24.05.14: My photo of the Mount Morgan Mine discharge in Queensland was published in the 24/5/14 edition of The Saturday Paper as part of the article 'Mining's Million Dollar Black Hole' – this image was originally taken for the Mineral Policy Institute's Mining Legacies Project – see a video I made for MPI about the Mount Morgan issue here. 

08.04.2014: I have some video works in Jacky Green's upcoming exhibition Flow of Voices at Cross Arts in Kings Cross.
Opening: 3pm Saturday, 12 April at The Cross Art Projects, Kings Cross.
Guest Speakers: Jacky Green and Dr Seán Kerins, ANU, Centre for Aboriginal Economic Policy Research.
There's a lot of mining going on in our country. The mining companies are coming into our country and they aren't talking with us properly. They seem to just want us to agree to things their way. – Jacky Green
Flow of Voices is a unique two-part case study exhibition on contemporary art, post-colonial relations and mining in the Borroloola region, Australia: Part 1, Jacky Green; Part 2, Nancy McDinney and Stewart Hoosan, 22 May to 21 June 2014.
07.04.2014: I have just returned from Balaklava, South Australia, as part of the Nuclear Futures Project, where Australian playwright John Romeril is in script development stages of a play about nuclear veterans involved Australia's atomic bomb tests during the 1950s. I am documenting this project as well as working on community projects with Balaklava residents.
17.03.2014: ABC Open Central Victoria article on the Marshall Islands.
March 1st marked the 60th anniversary of the US Castle Bravo thermonuclear explosion in the Marshall Islands, which contaminated the Bikini, Enewetak, Rongelap, and Utrik atolls. The bomb was fifteen megatons, making it the largest nuclear bomb the United States had ever tested and 1000 times stronger than the bomb dropped on Hiroshima. The local Marshallese, were evacuated to other atolls and have been unable to return home since. Many inhabitants have suffered ongoing illnesses as a result of radioactive fallout and many remember a white powder falling from the sky, which they thought was soap or shampoo, rubbing it into their hair and bodies.
I travelled to Majuro, the capital of the Republic of the Marshall Islands, for Nuclear Victims Remembrance Day and for a workshop that brought together third-generation nuclear bomb and nuclear test survivors from Kazakhstan, Japan and the Marshall Islands. This workshop, called 'Global Hibakusha', Japanese for nuclear survivor, was part of an Australia Council-funded project called Nuclear Futures. The aim was to teach young people digital media skills so the stories of their grandparents and their communities could live on.
Read the rest of the article here. 
04.03.2014: We have just finished our workshop in the Marshall Islands with 3rd generation hibakusha from Kazakhstan, TMI and Japan. You can read what we got up to via our blog here: www.nuclearfutures.org/blog
01.03.2014: 'Youth delegates from nuclear-affected countries are gathering in Marshall Islands to mark the 60th anniversary of the Castle Bravo nuclear test.' ABC News.
Read the article about our workshop and visit to the Marshall Islands.
23.02.2014: I am happy to say that I am part of a 3-year arts project focusing on the legacy of the nuclear tests in Australia and world-wide. The project is called 'Nuclear Futures' and involves a whole bunch of really wonderful and talented people. Please click here to find out more about the project overall. Multi-media artist, Linda Dement and myself are currently in Honolulu en route to Majuro, capital of the Marshall Islands, for workshops with youth representatives from Japanese, Kazakh and Marshallese communities who have been affected by nuclear testing. March 1st marks the 60th anniversary of the US Castle Bravo atomic test, which contaminated the Bikini, Enewetak, Rongelap, and Utrik atolls and forced the local population to leave; many Marshallese have also suffered ongoing illnesses as a result of these tests. This is the first in a series of new media workshops with third-generation atomic Hibakusha (survivors) as part of the Global Hibakusha project. 
09.10.13: Visualising Maralinga's Legacy; My work is distantly involved with Ruthless Jabiru, London's all-Australian chamber orchestra, which was established in 2011 by Australian conductor Kelly Lovelady, and is held under the official patronage of Australian composer Peter Sculthorpe AO OBE. In October 2013, the orchestra will perform Maralinga Lament at the Union Chapel with violinist Lara St. John, a London tribute to Maralinga alongside the Australia exhibition at the Royal Academy of Arts. Read it here.
07.10.13: Yami Lester's story on ICANW website with a photo of mine. "Yami Lester was just 10 years old when the United Kingdom began testing nuclear weapons near his home in Australia. A major test, named Totem 1, was detonated in the early morning of 15 October 1953, sending a thick, oily, radioactive cloud through his town of Wallatinna – around 100 miles from where the bomb was detonated at Emu Junction. Read/See more: ICANW survivor stories.
18.09.13: Docusound, a crossmedia platform for production and distribution of creative audio-documentaries, has featured Dave Sweeney and mine's radio documentary on Fukushima, 2 Years on, have a listen.
29.07.13: Our film 'Hidden Valley' has been selected for the 2013 Environmental Film Festival Melbourne and will be screened on the opening night at Kino Dendy, Collins Street, Melbourne from 6:30, along with another film 'Mining the Truth' and followed by a Q & A with the delightful Bob Brown. Click here for more info.

08 September 2013 – Review of 'As Far As I Know' by Daniel Palmer, in Arena Magazine:
The exhibition 'As Far As I Know' brings together two related but independent bodies of work by photographers Katrin Koenning and Jessie Boylan. Both artists present images of regional Australia and both use photography to trace remnants left behind by this country's industrial era. Like most photographers, their work is representational,
alerting us to something in the world as it appears in front of the lens. However, Koenning and Boylan are also concerned with what lies behind appearances and with what a single image cannot show.
What do these images do? How do they work? Koenning has chosen to see the world in a square format, Boylan as a series of rectangles. This immediately offers two different ways of seeing. The square links Koenning's images to portraiture and, more remotely, popular photography. And indeed, although their clarity and scale makes them far from
amateur—completely distinct from today's Instagram-inspired fashion for the square—they are the product of a photographer's personal journey, of travels through remote
Victoria and South Australia under clear blue summer skies. Boylan's rectangles, by contrast, with their winter hues and clouds, belong to a colder, more impersonal, topographic tradition of photography. Read the rest of the review.
12 July, 2013 – Review of 'As Far As I Know' by Dan Rule, in The Age
KATRIN KOENNING & JESSIE BOYLAN: AS FAR AS I KNOW
Contemporary American photography's ongoing dialogue with the decaying industrial monuments of the rust belt and Midwest has reached such pervasiveness that many now refer to such photographic practice in the terms of "ruin porn". On paper, Katrin Koenning and Jessie Boylan's new show at Colour Factory deals with some similar ideas, albeit in an Australian context. However, the work itself – which describes various traces of industry and built history amid the expanses of rural and outback Australia – is of a much subtler cadence. These works are more a collection of scattered traces and silent armatures that sit within the vastness of the Australian landscape, rather than loom ominously above it. While Koenning's spacious works picture the rusted tractors and empty grain silos of dried-out farming communities and desert towns, Boylan's images of Victorian forests and mining country have a more claustrophobic feel. In each case, the stories and traces prove elusive and assumed. It is a powerful allegory for Australia. While Detroit's towering edifices speak of the industrial American drama of towering heights and even greater collapses, As Far As I Know whispers of tacit, imbedded history – of small echoes amid a vast land.
Mon-Fri, 10am-6pm, Sat, 1pm-4pm, until July 27, Colour Factory, 409-429 Gore Street, Fitzroy, 9419 8756, colourfactory.com.au
LINK
01 July 2013; Happy that my 'East-West' series published in Light Journeys July edition.
There's something precious about the simpleness of a journey, of seeing things with fresh eyes, or simply seeing, watching from a distance, almost unattached to the befores and afters … with a free imagining of what once was.
However, when travelling to the US and New Zealand I took with me my social and political understanding of these places, (like Australia, they are products of ongoing colonisation and environmental pillage, as well as deep cultural heritage and traditions) and knew that I was always going to see these things.
These photographs are a combination of a yearning to learn histories and understand deeper socio-political struggles, as well as document the simpleness of a journey; a journey which allowed for me both intimate personal experiences as well as fleeting, passing moments with strangers and places that will never be relived.
04 June 2013; Upcoming exhibition 'As Far as I Know' with Katrin Koenning at the Colour Factory, Fitzroy, 4-27 July, 2013. Opening on the 4th of July from 6 – 8 pm. This work explores passages of time in manufactured, remembered and imaginary Australian landscapes. By contesting the division between the realm of memory and experience, this work references an experiential landscape that only emerges bit by bit. We investigate dynamics of landscape, and what this landscape means to us.
Hidden Valley [Teaser!] from Mineral Policy Institute on Vimeo.
03 June 2013: Over the past two and a half years I have been working on a documentary with the Mineral Policy Institute on Community resilience and mining in the Morobe Province in Papua New Guinea. We are in the final stages of this film and have a teaser out. Please check it out.
Jack Green talking about McArthur River, Borroloola, NT from jessie boylan on Vimeo.
Mount Morgan Mining Legacy from jessie boylan on Vimeo.